You will need to perform the wire transfer from your personal bank account, to your ANote Music account. The amount of funds you add through bank transfers might take from 2 to 5 business days to be available on your account.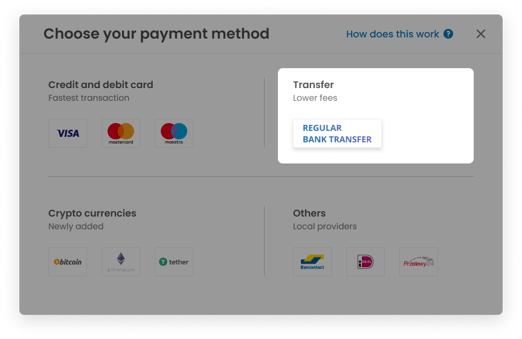 After selecting 'Add funds', click on 'Regular bank transfer' and follow the steps below:
Insert the amount in EURO (€) you wish to add.
The payment provider fees will be automatically calculated.


Click 'Show guide'.
Use the information available in the guide to issue a wire transfer from your bank account to your ANote Music account.


Once you placed the wire transfer, your funds will become visible. First in your bank balance, and once the funds have arrived after 2 to 5 business days on your ANote Music account.
You're ready to invest!
Attention: Some banks and online payment systems, like Wise, may not support transfers to bank accounts that include characters, such as letters, as if is the case for the accounts linked to all wallets on the ANote Music platform.
In case you are experiencing a problem while making a transfer, you may click on 'having trouble with the IBAN?'. You will automatically get redirected to a page indicating ANote Music's dedicated IBAN number. This is general account for the entire ANote Music platform.
Should you use this IBAN number, it is important to include the reference code shown in the 'Show guide'-card, so that the transfer can be easily allocated to your e-wallet.
More payment solutions will be integrated in the future. If you have any suggestions that you would like to see added, don't hesitate to contact us on
support@anotemusic.com
and our team will look into it.